ROTHANE polyurethanes are elastomers designed by Rodero and exclusive for our products. They have excellent mechanical and chemical properties, able to satisfy a wide range of applications.
TEAR AND ABRASION RESISTANCE
The exceptional wear resistance of our polyurethanes is the main property for which they are known for. Under 90 Shore A hardness, wear resistance of our polyurethanes, is very high, but in hardness comprehended between 90 Shore A and 75 Shore D, this property is more relevant, even duplicating the wear resistance.
The higher the polyurethane hardness is, the lower the friction coefficient; in soft types, due to a higher contact surface, the friction coefficient can become 10 to 15 times bigger than hard types. We can say, in respect of friction coefficient, that the properties are very similar to rubber properties.
INCLEMENCY, OXYGEN, OZONE AND ULTRAVIOLET RAYS RESISTANCE
Our polyurethanes have a very good resistance to oxygen and ozone , being one of its most remarkable and interesiting charactersitics. Long exposure to ultraviolet rays of the sun´s light, only affects the outer material layer, discoloring or making it darker, but it does not alter internally its technical properties. Up to 40-50ºC, polyurethane elastomers can be considered as one of the most resistant materials, when oil and inclemency effects are combined.
Our polyurethanes are better than other elastomers in load capacity. For hardness under 75 Sh. A, they keep similar compression-flexion characteristics to rubber, but the big difference is that they mantain their elastic characteristics above the mentioned hardness.
Due to its unique chemical structure our elastomers are products with a special cutting resistance. This characteristic makes them especially attractive for multitude of industrial applications.
OIL AND GASOLINE RESISTANCE
Aliphatic hydrocarbons and esters are generally inert for our polyurethanes. Therefore, its use is very recommended in the presence of products such as: vegetable oils, hydraulics or lubricants, gasolines, fuel, glycerin, hexane, hydrogen, isopropyl eter, napghta, oleic acids, soap solutions, stearic acid, etc.
One of the limitations of using polyurethane elastomers is the possibility of a hydrolytic attack, it can be produced by water immersion or by humid environments, and it increases with high temperatures. The formulation of our ROTHANE polyurethanes is improved to minimize hydrolisis impact.
Our ROTHANE polyurethanes can work between -30ºC and 80ºC keeping their major properties. Its use must be avoided in humid environments and with high temperatures otside the indicated range. In respect to low temperatures, the use of polyurethane elastomers up to -25ºC has no difficulty. Sometimes it can reach temperatures near -40ºC, but at this temperature, the decrease of elasticty and the hardening are so remarkable that its usefulness is limited.
ELONGATION AND TRACTION RESISTANCE
Our polyurethane elastomers have an elongation breaking resistance two to three times higher than other rubber elastomers. Combining in the same product a big elongation breaking resistance and a traction resistance, makes it a technical element with exceptional properties.
Polyurethanes elastomers are generally electric insulators, consequently it is an optimal material coating parts that must be insulated from electric conductivity. In addition, at Rodero we have developed conductive polyurethanes for those industrial applications who need it.
Click

here

to access to the extended properties table.
---
POLYURETHANE ROLLER COATING
POLYURETHANE ROLLER COATING
Spinning for new ideas…
Our main activity is coating industrial rollers. In 1985 we introduced polyurethane as a new elastomer in our offer of coverings due its excellent mechanical properties. Its processing method is completely different to coating rubber rollers, wich allows reduce significantly delivery times.
ROTHANE polyurethanes, that we use for roller coatings, are composed with a polyester or a polyether base, with a hardness from 40 Sh. A until 75 Sh. D, covering practically all the industrial applications.
Although both types have similar basic properties, in specific applications their behaviour can differ significantly.

When do we have to choose a ROTHANE polyurethane coating?
The election of a rubber or polyurethane coating must be taken according to the work to be performed by the roller. Generally polyurethane coatings are recommended when we are searching to combine high elasticity and recovery against deformations with other mechanical or chemical properties.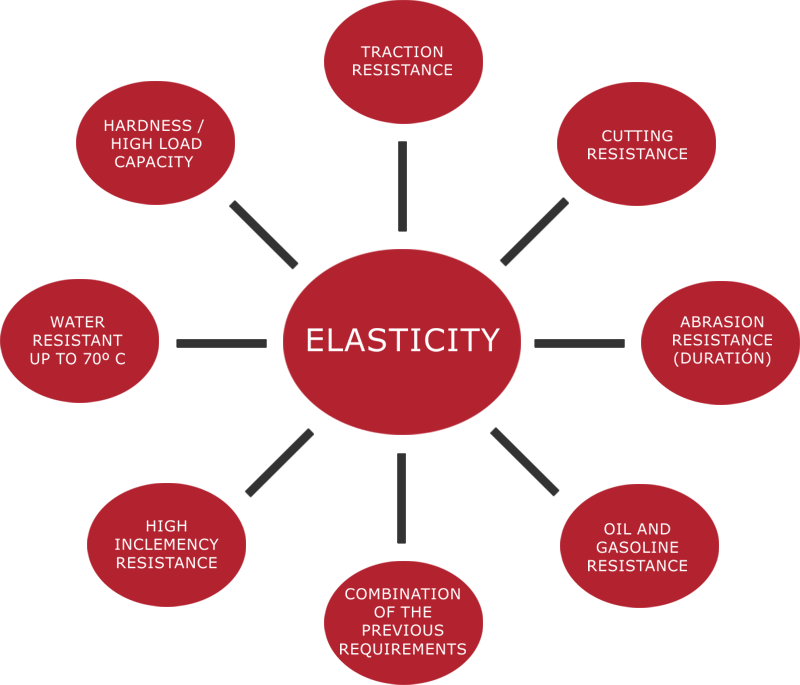 In addition to roller coating we offer the following services:

Verification and axes repair, axle shaft bearing, seals, etc..

Spiral, radial, axial, diamond grooves, etc..

Parabolic curved, conical or double conical.

We manufacture complete rollers (metal core + rubber).

Dynamic balancing.

Rectifieds with different fine finishes, superfine with different roughness values.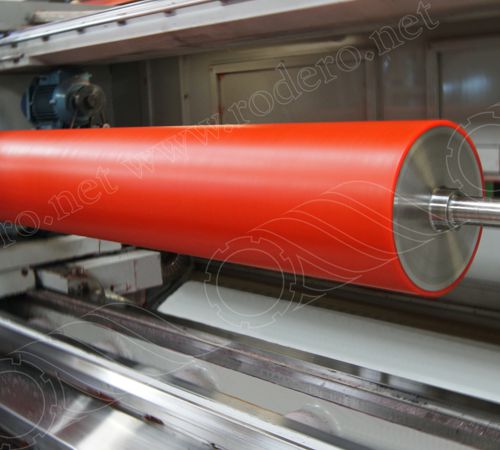 We manufacture coatings in a hardness range from 40 Sh. A up to 75 Sh. D.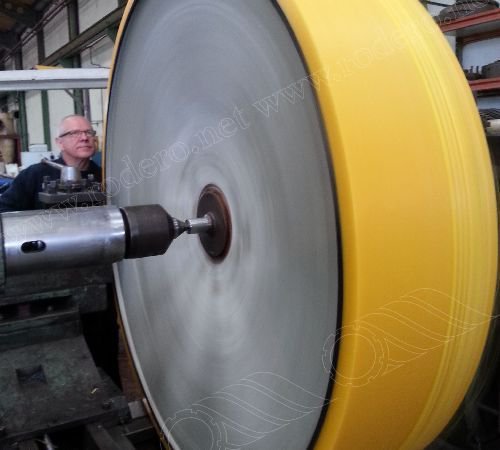 Our productive capacity allows us to cover the entire industrial needs.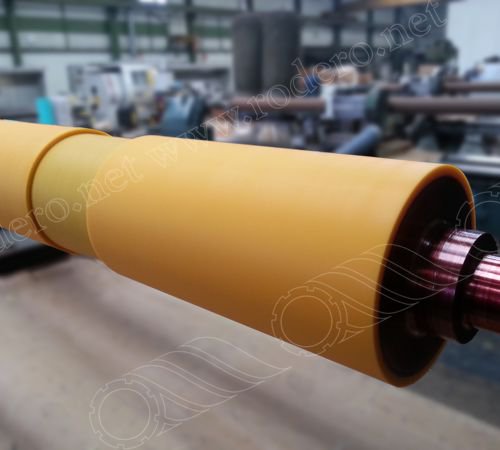 Giving the roller a perfect finishing is vital for an accurate functioning.
---
TECHNICAL POLYURETHANE PARTS
The difficulty of a part is not an issue, it is a challenge for us.

With our ROTHANE polyurethanes we manufacture all kind of industrial technical parts with hardness from 20 Sh.A until 75 Sh.D. The organization of this section allows us to attend to all kind of requirements of our customers, from the production of one single part to the production of large series.
The formidable answer of our materials against abrasion and tear provides the parts a long service life, minimizing time lost to replace them in their respective machines.
Our polyurethane technical parts offer consists of: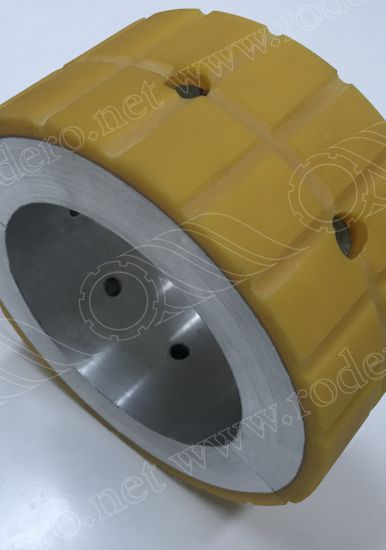 Wheels with high load capacity.

Guided pulleys.

Flexible couplings.

Cone-shaped cyclone nozzles.

Supporting blocks for protection delicate components.

Industrial grooved collars.

Transmission flex discs.

Sealing sleeves.

Anti-vibration bearings for heavy structures

Any technical part capable to be manufactured with a polyurethane elastomer.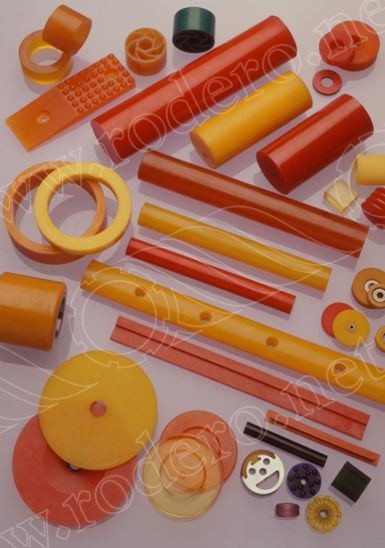 ---
OTHER POLYURETHANE PRODUCTS

Our polyurethane technical parts offer ends with:

Inner coatings for mills, tanks, etc..

Polyurethane plates with different dimensions and hardness.

Bars and other semi-manufactured products for later mechanization.