SOLUTIONS FOR THE METAL SECTOR
In the manufacture of steel and aluminum sheets and further handling to achieve consumer end products, there are plenty of processes carried out by machines which have metal rollers covered with rubber or polyurethane as their main parts.
The demand for quality is at the highest in this sector both mechanically because of the pressures and strains that take part, and chemically due to contact with acids, lubricating oils, varnishes and solvents.
In Rodero we perfectly know the peculiarities of this sector, so we have developed special formulations of our coatings adapted to each process.

Cold rolling line.

Pickling process line.

Checking and scaling line.

Cross cutting, longitudinal cutting or combined cutting line.

Press feed lines.

Polished and scratch brushed line.

Cleaning and degreasing line.

Galvanized sheet line.

Lacquering/varnishing/painting line.

Bending line.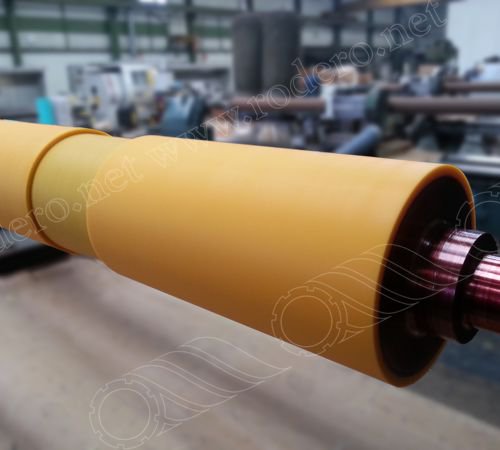 Among the wide range of rollers and technical parts for metal sector in Rodero, we highlight the following:

Pinch-roll rollers.

Immersed rollers.

Squeegee rollers.

Pinch and scrap rollers.

Tension and guide rollers.

Winder rollers.

Leveler rollers.

Baffle rollers.

Separator discs for cutter blade.

Feed to press line rollers.

Lacquering, varnishing or painting rollers.

The main properties of the rubbers that we usually use in the textile sector are:

High chemical resistance to acids and alkalis.

High resistance to temperature.

Elasticity and great recovery capacity.

Excellent abrasion resistance.